Strict Standards
: Non-static method WPAL2Facebook::Get_user_ID() should not be called statically in
/var/www/heinesen.info/public_html/music/wp-content/plugins/add-link-to-facebook/add-link-to-facebook-int.php
on line
1739
Strict Standards
: Non-static method WPAL2Facebook::Get_user_ID() should not be called statically in
/var/www/heinesen.info/public_html/music/wp-content/plugins/add-link-to-facebook/add-link-to-facebook-int.php
on line
1110
Strict Standards
: Non-static method WPAL2Facebook::Is_excluded_post_type() should not be called statically in
/var/www/heinesen.info/public_html/music/wp-content/plugins/add-link-to-facebook/add-link-to-facebook-int.php
on line
1111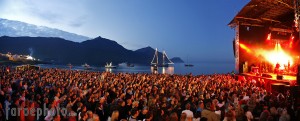 Who's behind MUSIC.fo?
The initiative to establish a new music web magazine about Faroese music – MUSIC.fo – was taken by Elin Brimheim Heinesen and Eyðfinn Jensen, both Faroese musicians. Eyðfinn owned the domain name MUSIC.fo, and Elin has been dreaming of making a web magazine about Faroese music for many years, so they met in 2012 and made a deal.
Elin started right away preparing the creation of a music web  magazine using the open source platform WordPress. She is chief editor of the magazine MUSIC.fo and she also runs the related Twitter and Facebook pages on a daily basis. Other contributors are Matthew Workman, journalist form Oregon and host of the Faroe Islands Podcast, who – hopefully – will be followed by several other content contributors soon.
Why MUSIC.fo?
The Faroe Islands is a melting pot of creativity – music, singing, song-writing, alternative rock music festivals and modern art all play a very important role in life in the Faroes today. Some believe that the Faroese must have a special creative gene, because the amount of music and artworks pouring out of these islands is astonishing – especially when you consider the modest number of inhabitants in the Faroes of approximately 50,000 people. No more than could fit in an average football stadium in a major city. Still, everything is on the menu here: Traditional singing and dancing, choir music, folk music, jazz, blues, rock, metal, punk and so on. Tórshavn – a small town inhabited by only approximately 20,000 people – even has a symphony orchestra, which most people would consider impossible!
A new generation of musicians are taking on the stages. With one foot solidly planted in tradition and the other one in the creative sphere, they are now entering the international scene and are slowly gaining international recognition in increasing numbers. None has had an international breakthrough or gained superstar status yet, though some are very close to making it.
This achievement has not come for free. Some fiery souls have worked hard to lift Faroese music by creating a Faroese record label, establishing a Faroese music school and organizing many musical events, which gave the musicians a scene to perform on and lots of opportunities to develop. This amazing work and it's results has also, to an extent, attracted some international attention.
So the fact that Faroese musicians still are relatively unknown in the world has nothing to do with lacking skills or poor quality of their music. Anyone who digs into this matter would soon discover that it is actually strange that so few have noticed the excellency of the thriving Faroese music scene.
We want to make a difference with MUSIC.fo
We think it might have something to do with the fact that so far there has been no source obtainable anywhere with collected information presenting the Faroese music scene, currently and regularly updated in English, to help make people aware of this hidden treasure, which can be found on these small remote islands in the North Atlantic. Who would have imagined that this far away place with so few inhabitants could deliver such a diverse musical scene that produces music of such high quality.
But now, MUSIC.fo is here! And we are determent to spread the rumor, give the Faroese musicians a more powerful voice and cut a slit in the massive information noise out there by presenting the facts in an appealing, interesting and orderly way – and thus help Faroese musicians gain the worldwide recognition and fame their quality and skills entitles them to.
On behalf of the MUSIC.fo team
Elin Brimheim Heinesen, editor of MUSIC.fo
---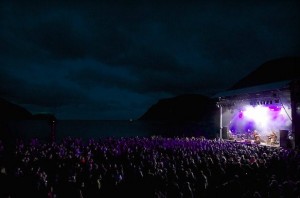 RECENT MUSIC HISTORY IN THE FAROE ISLANDS
By Elin Brimheim Heinesen – on the basis of interviews with Urd Johannesen, Jón Tyril and others
A kind of independent alternative Faroese rock sound seems to have emerged in recent years. It's difficult to describe, but it is getting great reviews – also outside the Faroes – and seems to attract international audiences in growing numbers. The Faroese music scene presents an impressive diversity of genres. And we hear people say it all the time: There is something about Faroese music, which is quite special.
Faroese music artists of various kinds are also ready to take on the international scene, but what would help them make the leap? Is the support from their own people, public authorities, organisations and media enough? And is the international music industry ready to discover and appreciate the Faroese sound? These are very interesting questions.
There has been a change in recent years in the perception of music from an investment perspective, although one could say that few companies put big money into music in order to get a "return" in the traditional financial way. Rather, they see it as a way of "nurturing" the wishes and needs of their younger target audiences, and in return they hope to gain the trust of these groups and establish their companies' brands in the minds of these audiences.
International Exposure
The fact that Faroese acts get more international exposure is a sign to everybody that the Faroe Islands may benefit from music as much as from any other "products". The trust in our own abilities to initiate, organise and manage music has grown as a result of festivals such as the G! festival, the AME festival (Atlantic Music Event) and the Summarfestival in Klaksvík. Once Faroese companies and investors are presented with ambitious and talented organizers, along with a great and thriving local music scene, they are of course more willing to put their money into it. This is what we have been witnessing in recent years.
A Result That Comes From Hard Work
The development on the music scene is a combination of several things that have happened over the past 20-30 years or longer.
The publisher Tutl was established in 1977 as a direct consequence of the activities in Havnar Jazzfelag – the local jazz club which was very active at the time – also initiated by Kristian Blak, the director of Tutl. Tutl has played a major role in documenting Faroese music and giving the musicians a chance to record and publish their music – thus making it accessible to a larger Faroese audience. This has later been expanded to include an international audience through for example their online outlet. But Tutl also acts as a promoter of records and live acts, and has been successful in building networks abroad.
The Faroese Music School under the Ministry of Culture and the local Councils was established in the mid-1980s and has played a major role in the training and education of musicians while providing a vibrant and creative environment for young musicians.
The Nordic House started its activities in 1983 and has been important to the Faroese music scene in terms of benchmarking – by this I mean that it brought in Nordic, European and International acts and made the world "bigger". This provided a different perspective to the Faroese musicians – along with the influence from television, not least MTV.
The Nordic House hosted the Jazz, Folk and Blues Festival for many years and also organized and hosted Prix Føroyar, together with Kringvarp Føroya, the National Broadcasting Company, which was a contest between bands or acts with original material. This bi-annual music competition, which took place from 1995-2005, had a huge impact on the Faroese music scene, which still resonates with most of the younger generation of musicians from the rhythmic scene in the Faroes, though the contest is long gone. Later the Nordic House organized the Atlantic Music Event (AME) together with SamVit, the tourism and export council at the time. AME promoted Faroese and Nordic acts to industry people abroad and had some success with that, but this event never gained the popularity of the public, like Prix Føroyar had, so it stopped after just two events.
The Faroese Entertainment Music Association (FUT). FUT has been involved with several local music events, including Prix Føroyar and AME. FUT has undergone some changes recently and is now being relaunched or rebranded as FUTT.
And then the festivals: Summartónar (with classical/contemporary/crossover music), the G! Festival and the Summarfestival in Klaksvík have also been very important in developing and supporting the Faroese music scene.
Governmental Initiatives
In the years 2006-2009 the organisation SamVit – the Faroese Tourism and Trade Council – focused on music and creative industries in general and became a key player in promoting Faroese music abroad by coordinating and promoting events, participating at trade exhibitions etc. – in some cases in cooperation with the Faroese Representations abroad – such as the one in Brussels, in Copenhagen, in London and in Reykjavík.
In these years there was a strong sense of working together, more than ever before. So together with the other parties, SamVit worked on a long-term strategy for export of Faroese Music. There was active work towards that – until SamVit allegedly was merged with the Ministry of Foreign Affairs – but in reality ceased to exist.
Music Export Office On It's Way?
One of the results of this work was a survey that was made to gather information and experiences from important people in the Faroese music scene – especially in regard to music export – such as music managers and other people working directly with Faroese music export. The result of the survey formed the basis in a proposal which was handed to the Minister of Trade and Industry, Bjørt Samuelsen, in the summer 2008.
The main point in the proposal was the importance of establishing a Music Export Office, probably combined with a Music Information Centre, here in the Faroe Islands as soon as possible, because, as it is, nobody solves or takes on many of the important, even crucial, responsibilities and assignments which would be an obvious part of the work of such a Music Export Office – just as in similar offices in most other countries. A Music Export Office would have more means and can make a much greater impact when promoting Faroese music abroad than Faroese musicians can by themselves one by one.
If we want to benefit from Faroese Music as a product and make a solid business out of it, it requires a joint concerted effort. A Music Export Office would be the obvious place for everybody interested in Music Export to link together and network, and the office would also play a very important role as the presenter of Faroese Music as a whole to the rest of the world. But of course, the establishment of such an office requires political will to finance the project.
Still A Long Way To Go
There's no doubt that in small communities like the Faroese community the feeling of "if they can – we can" maybe is much stronger than in other, larger communities. There is a strong feeling that local acts are just as good as the ones people listen to abroad.
What is lacking in furthering the music scene even more is the infrastructure or rather the lack of one. There is a need for managers, promoters and publishers etc. – all these individuals and small companies or establishments who take the music further and promote it towards "the rest of the world".
This is also changing: we see young people travelling abroad to study management and promotion etc. Confidence in the acts is definitely growing. There is a market for all kinds of music, it's just a matter of finding your audience out there, and in this respect MySpace and later other social media like Facebook have been very important to Faroese musicians to promote themselves toward their particular target or core audiences. Every single Faroese band or act had its own webpage and uses it a lot. On the internet everybody is equal and that certainly is an advantage for a small country like ours.
Role Models
Iceland has been a role model when it comes to the production of progressive music, perhaps not so much when it comes to business models. As far as we know they do not have strong public support for music, maybe even less than here in the Faroe Islands. But Iceland has, by the way, been an important second market to Faroese music not least after Eivør broke there along with Denmark. So it is almost like an extended home market.
Iceland Airwaves and a support scheme for touring, called Loftbrú (travel bridge), have been an inspiration. We are working on establishing that on the Faroe Islands as well so that our musicians can travel abroad back and forth less costly.
Sweden has also been seen as a good role model for the more mainstream pop music, but then again, they do not support music publicly (pop, rock etc.) as much as for instance Denmark or Norway, but on the other hand Sweden has well-established education and training for musicians.
And both Sweden and Iceland have fantastic international acts that have led the way for many others. In terms of good "business" models (as a public effort) maybe Denmark is a good role model. Finnish music industry is probably as good – if not better than the Danish and Norwegian. Public and national authorities there are focusing a lot on music – especially in supporting bands touring – and a lot of their bands have broken through in recent years.
The results are quite evident: ten years ago one could point out one international Danish band, Aqua, but then nothing happened for many years. Now there are tons of Danish bands out there. Publicly they have established many different support schemes; to live venues (and the support goes also to paying the musicians), to marketing, to tours, to rehearsal rooms, to CD/audio production etc.
The Musicians Are The Driving Force
The driving force on the music scene are of course the musicians themselves though…. The fact that Teitur, Clickhaze, Eivør and Týr quit their day jobs and went for a music career without a safety net (that is getting an education first or having a civil career at the same time) – just throwing themselves into the mercy of life as aspiring professional artists – has maybe been one of the most significant developments in the Faroese scene. This acted as role model for other artists as well and changed the way the whole conception of being a musical artist in the Faroes.
Before, bands used to be cool if they were good at playing cover songs. The G! festival and the association behind called Grót and the artists connected to that environment, together with Prix Føroyar and TUTL changed that and made the concept of "being who you are" and creating and playing your own material the only measurement for success.
By leaving out the cover bands and putting the new and original bands on the programme, as well as taking part in public debates about these things, they played a major role in this change of values.
But we still do have a lot to achieve. We still have a public television which does not broadcast Faroese music – or Faroese music videos. The public radio station has no stated goals of supporting new talent etc…. There are so many things to do; the battle has just begun really.
Up until now the strategic focus has been to create events that have the possibility to attract the attention of the media and music business abroad – such as Atlantic Soundscapes in Brussels in 2008. You could say that this was an attempt to create success stories to build the further development of the music scene on. The goal is to get more and more people involved in playing, training, educating, promoting Faroese music and get companies to invest in the music business – and slowly build up a more lucrative music industry in the Faroe Islands.