Strict Standards
: Non-static method WPAL2Facebook::Get_user_ID() should not be called statically in
/var/www/heinesen.info/public_html/music/wp-content/plugins/add-link-to-facebook/add-link-to-facebook-int.php
on line
1739
Strict Standards
: Non-static method WPAL2Facebook::Get_user_ID() should not be called statically in
/var/www/heinesen.info/public_html/music/wp-content/plugins/add-link-to-facebook/add-link-to-facebook-int.php
on line
1110
Strict Standards
: Non-static method WPAL2Facebook::Is_excluded_post_type() should not be called statically in
/var/www/heinesen.info/public_html/music/wp-content/plugins/add-link-to-facebook/add-link-to-facebook-int.php
on line
1111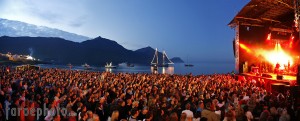 The Faroe Islands is a melting pot of creativity – music, singing, song-writing, alternative rock music festivals and modern art all play a very important role in life in the Faroes today. 
Some believe that the Faroese must have a special creative gene, because the amount of music and artworks pouring out of these islands is astonishing – especially when you consider the modest number of inhabitants in the Faroes of approximately 50,000 people. No more than could fit in an average football stadium in a major city.
Still, everything is on the menu here: Traditional singing and dancing, choir music, folk music, jazz, blues, rock, metal, punk and so on. Tórshavn – a small town inhabited by only approximately 20,000 people – even has a symphony orchestra, which most people would consider impossible!
The Faroese Music Scene Thrives
A new generation of musicians are taking on the stages. With one foot solidly planted in tradition and the other one in the creative sphere, they are now entering the international scene and are slowly gaining international recognition in increasing numbers. None has had an international breakthrough or gained superstar status yet, though some are very close to making it.
This achievement has not come for free. Some fiery souls have worked hard to lift Faroese music by creating a Faroese record label, establishing a Faroese music school and organizing many musical events, which gave the musicians a scene to perform on and lots of opportunities to develop. This amazing work and it's results has also, to an extent, attracted some international attention. (Read about the efforts so far here). So the fact that Faroese musicians still are relatively unknown in the world has nothing to do with lacking skills or poor quality of their music. Anyone who digs into this matter would soon discover that it is actually strange that so few have noticed the excellency of the thriving Faroese music scene.
We think it might have something to do with the fact that so far there has been no source obtainable anywhere with collected information presenting the Faroese music scene, currently and regularly updated in English, to help make people aware of this hidden treasure, which can be found on these small remote islands in the North Atlantic. Who would have imagined that this far away place with so few inhabitants could deliver such a diverse musical scene that produces music of such high quality.
But now, MUSIC.fo is here! And we are determent to spread the rumor, give the Faroese musicians a more powerful voice and cut a slit in the massive information noise out there by presenting the facts in an appealing, interesting and orderly way – and thus help Faroese musicians gain the worldwide recognition and fame they really deserve.
On behalf of the MUSIC.fo team
Elin Brimheim Heinesen, editor of MUSIC.fo