Warning
: Illegal string offset 'orderby' in
/var/www/heinesen.info/public_html/music/wp-content/plugins/custom-taxonomy-sort/custom-taxonomy-sort.php
on line
329
Warning
: Illegal string offset 'orderby' in
/var/www/heinesen.info/public_html/music/wp-content/plugins/custom-taxonomy-sort/custom-taxonomy-sort.php
on line
330
Warning
: Illegal string offset 'orderby' in
/var/www/heinesen.info/public_html/music/wp-content/plugins/custom-taxonomy-sort/custom-taxonomy-sort.php
on line
329
Warning
: Illegal string offset 'orderby' in
/var/www/heinesen.info/public_html/music/wp-content/plugins/custom-taxonomy-sort/custom-taxonomy-sort.php
on line
330
Warning
: Illegal string offset 'orderby' in
/var/www/heinesen.info/public_html/music/wp-content/plugins/custom-taxonomy-sort/custom-taxonomy-sort.php
on line
329
Warning
: Illegal string offset 'orderby' in
/var/www/heinesen.info/public_html/music/wp-content/plugins/custom-taxonomy-sort/custom-taxonomy-sort.php
on line
330
Strict Standards
: Non-static method WPAL2Facebook::Get_user_ID() should not be called statically in
/var/www/heinesen.info/public_html/music/wp-content/plugins/add-link-to-facebook/add-link-to-facebook-int.php
on line
1739
Strict Standards
: Non-static method WPAL2Facebook::Get_user_ID() should not be called statically in
/var/www/heinesen.info/public_html/music/wp-content/plugins/add-link-to-facebook/add-link-to-facebook-int.php
on line
1110
Strict Standards
: Non-static method WPAL2Facebook::Is_excluded_post_type() should not be called statically in
/var/www/heinesen.info/public_html/music/wp-content/plugins/add-link-to-facebook/add-link-to-facebook-int.php
on line
1111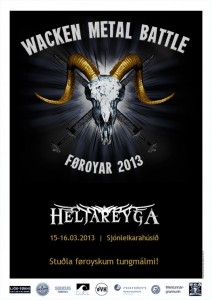 Wacken Metal Battle Føroyar will take place in Faroe Islands on March 15-16, 2013 in the old theatre Sjónleikarhúsið.
This year the battle is 2 days, and will also feature a headlining band (not competing), which is Heri Joensen's (Týr) side kick Heljareyga.
First four bands announced for Metal Battle are:
Asyllex, Reduced to Ash, The Happening & Earth Divide!